We truly love and are dedicated to what we do and it shows in every aspect of our operation. We continually focus on research and development and improved infrastructure to move forward positively to in the end, being able to provide you, our valued customers with the very best feeders available.
Our Plastic Tub Range Includes: 
Note that the pictures of our tubs shown below are an indication of our tub ventilation and that the tubs and hole pattern may vary in design from time to time to accommodate improvements and availability. 
(Cricket Main Line and Econo Line, Superworms and Roaches)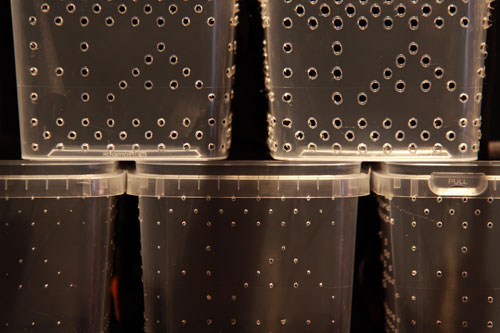 We have custom sized holes in the tubs that are precisely the correct size for each size of insect so they get maximum ventilation. Note that some tubs have holes on lids only.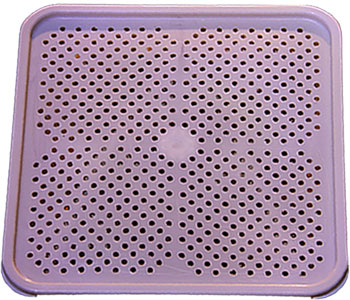 We vent the lids on the larger crickets (3/4 and Adult), and on all superworms and roaches which creates a gentle cross ventilation, which we refer to as G-Vortex ventilation, to keep them fresh, dry and condensation free, especially in summer!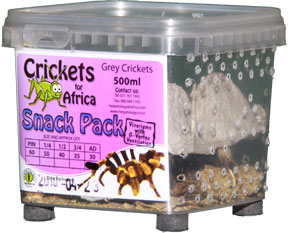 Feet are attached to all tubs with vented lids so they can be stacked, both in transit and thereafter, so save space without compromising air flow.
The egg boxes packaged in the tubs are securely placed so they don't slop around injuring your insects in transit.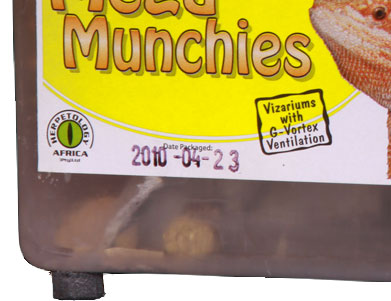 We date stamp our tubs so you know exactly when they were packed and dispatched. Date-Stamp Moisture and dry food is included in every tub to keep the insects fed and hydrated in transit. We also make the journey as safe as possible for the little insects and crush their pellets so the rolling action in transit cannot damage them. All superworms have bran as bedding and burrowing space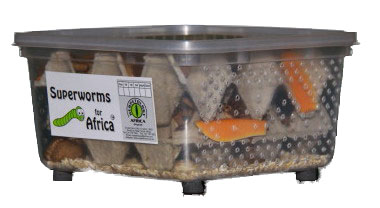 Because our tubs are specifically designed for travel, they are strong, secure, compact and professional, promoting strong customer confidence in our products.